Hormones
Homeostatic feedback systems
example: insulin, PTH, cytokines
insulin: stimulating glucose update into cells

half-life: 5-6
SC dosing - flip-flop kinetics: Cmax, Tmax

PTH

Teriparatide (N-terminal 34-mer of full-length PTH, approved)
Anabolic effect - stimulation of osteoblasts
PTH1R
Cytokine
HGF - nonlinearity
Thrombopoietin analogue (PEG-rHuMGDF) - Modeling of thrombopoietic effects
Soluble Receptors
Etanercept - TNF receptor binding fusion protein

PASI (Psoriasis Area and Severity Index)
Sigmoid Emax-model - EC50 2ug/ml
Monoclonal antibodies
Table 12.2, Table 12.3, Table 12.3 - Approved therapeutic monoclonal antibodies
Anti-TNF-

\(\alpha\)

antibodies

infliximab (chimeric antibody)
fully humanized (adalimumab)
RA biomarker: ACR20 and EULAR improvement

Therapeutic Antibodies in Oncology

Rituximab - anti-CD20 -> B cells (ADCC, CDC, apoptosis)
PK of rituximab - nonlinear in multiple dose
CLL dose > NHL dose: larger tumor burden and antigen sink
Bevacizumab: humanized IgG1 monoclonal antibody that binds and inhibits VEGF interaction with its receptor Flt-1 and KDR -> angiogenesis.
Trastuzumab: targeting HER2 receptor
* The banner is inserted from the article (Hansel et al. 2010).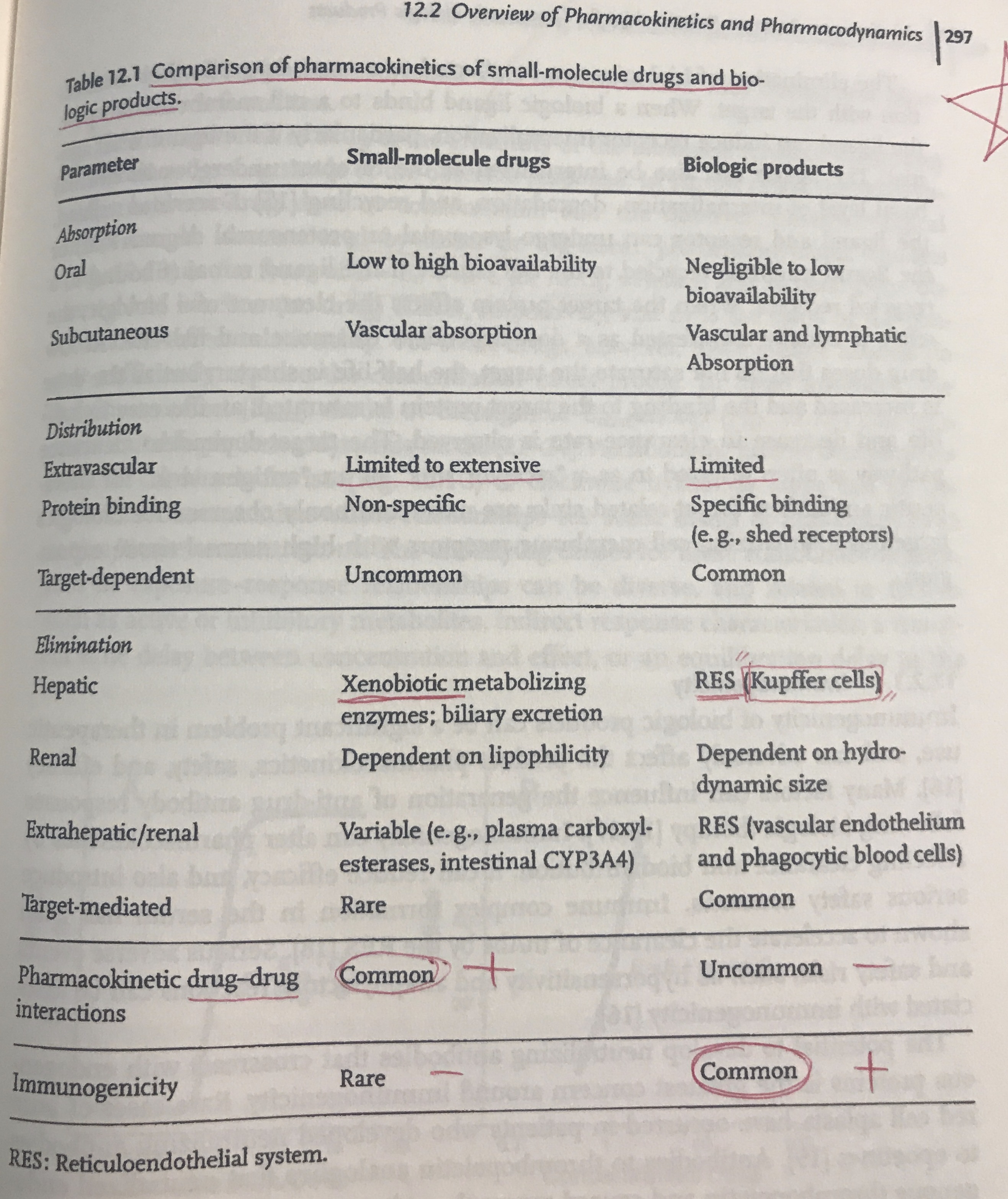 Reference
Hansel, Trevor T., Harald Kropshofer, Thomas Singer, Jane A. Mitchell, and Andrew J. T. George. 2010. "The Safety and Side Effects of Monoclonal Antibodies." Nature Reviews Drug Discovery 9 (4). Springer Nature: 325–38. doi:10.1038/nrd3003.
Meibohm, Bernd. 2006. Pharmacokinetics and Pharmacodynamics of Biotech Drugs : Principles and Case Studies in Drug Development. Weinheim, Germany: Wiley-VCH.